kids Climbing Group coaching
STEP 1: Complete Your Payment Using One of The Methods Below
*Once the transaction is complete, please email us the payment confirmation slip screenshot/photo at Bunker.KohTao@gmail.com
With Paypal or Credit Card
Step 1: Select the number of guests you're paying for.
Step 2: Click the button below.
Step 3: Follow the steps to complete payment.
Step 1: Log into your Wise Account.
Step 2: Click on "Send Money".
Step 3: In "Recipient gets exactly" field, enter the exact amount in THB that you need to transfer.
Step 4: Click Continue, then Select "Business or Charity"
Step 5: Enter our email address: bunker.kohtao@gmail.com
Step 6 (if required): Fill in our bank information below.
Branch Code: 0020731
Bangkok Bank Public Company Limited
Koh Tao Suratthani Sub Branch
SWIFT CODE: BKKBTHBKXXX
Account number: 7310153650
Acc. holder name: Puttipong Jirasinlerdp
Transfer With QR Code From Thai Bank
Step 1: Scan our QR payment code.
Step 2: Enter the exact amount in THB as shown on the previous booking page, and complete the transfer.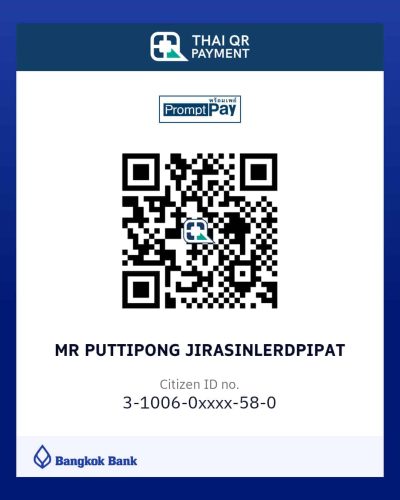 Wire Transfer From Foreign Bank
Complete a wire transfer from your bank with our details below.
Branch Code: 0020731
Bangkok Bank Public Company Limited
Koh Tao Suratthani Sub Branch
SWIFT CODE: BKKBTHBKXXX
Account number: 7310153650
Acc. holder name: Puttipong Jirasinlerdpipat
STEP 2: Fill & Sign The Waiver Form NOW TO SAVE TIME LATER
JOIN US IN KOH TAO, THAILAND

2/55, Moo 3, Koh Tao,
Koh Phangan Surat Thani,
84360 Thailand